Glionna Mansell Corporation Presenting the world's finest Classical, Digital and Digital-Pipe Organs
May 27th 2012
Glionna Mansell announces new products from Allen Organ Company
Toronto, Canada. Over the past year the Allen Organ Company has made several changes and upgrades to the Protégé and Quantum product lines. In addition to these and added to the famous Diane Bish Signature Series, Allen has expanded its "designer" models by two. Allen tonal director Randy Miller has launched a 24-channel organ (The Allen RM63) while Rudy Lucente adds a personal touch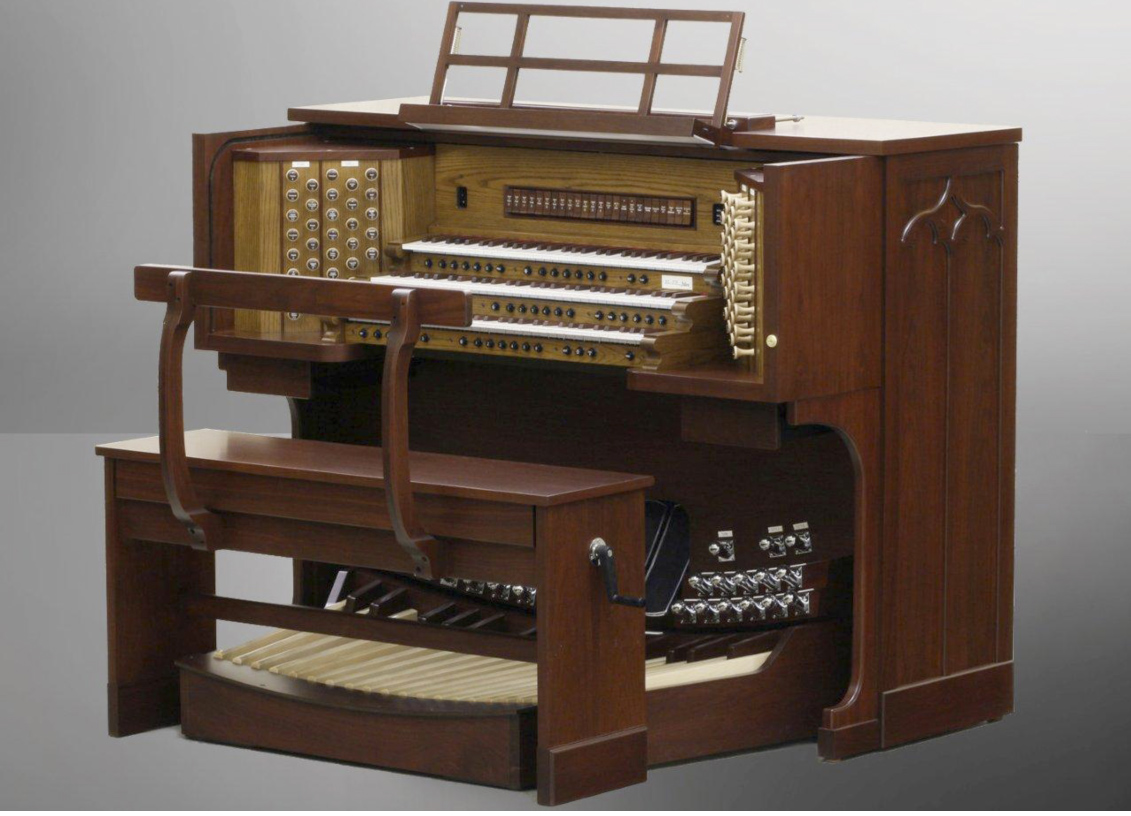 with his 18-channel design (The Allen RL58) shown here. Rudy says that this organ "was borne out of his many years of experience in the Catholic music tradition."
All designer organs have premium upgrades and are tonally designed for leading congregational worship without compromising flexibility for the performance of concert repertoire. Most Allen organs are fully pipe compatible… meaning that they may be used as digital or combination digital/pipe consoles.
The Quantum Q570 is a new five-manual, 87-stop 28-channel organ. The professional capabilities of this instrument are significant and ideal for a very active and comprehensive music program. With the addition of Allen's new MIDI Navigator II touch screen computer interface, the Q570 is similar to all the other Allen organs as it would accommodate all styles of music from traditional through to contemporary. The new MIDI system is equipped with intuitive controls plus video player for viewing imported video. It also has video recording and playback capabilities and with a camera strategically positioned, will provide a convenient monitor for viewing hard-to-see places in the church, i.e. under the balcony or in the narthex. This factory installed easy-to-use multimedia system is available for all new Allen organs.
Last year Allen introduced the first drawknob consoles for Protégé. This year Allen has created a new style for some of its Protégé tab models. The side stop jambs where one might expect to see drawknobs have tabs instead. This is very convenient for those appreciating the economy of a Protégé organ without compromise of style or tonal capabilities. Shown below is the new 33-stop Protégé L227 on the left next to the 50-stop Protégé L331. The L331 and L341 are available as drawknob editions.
| | |
| --- | --- |
| | |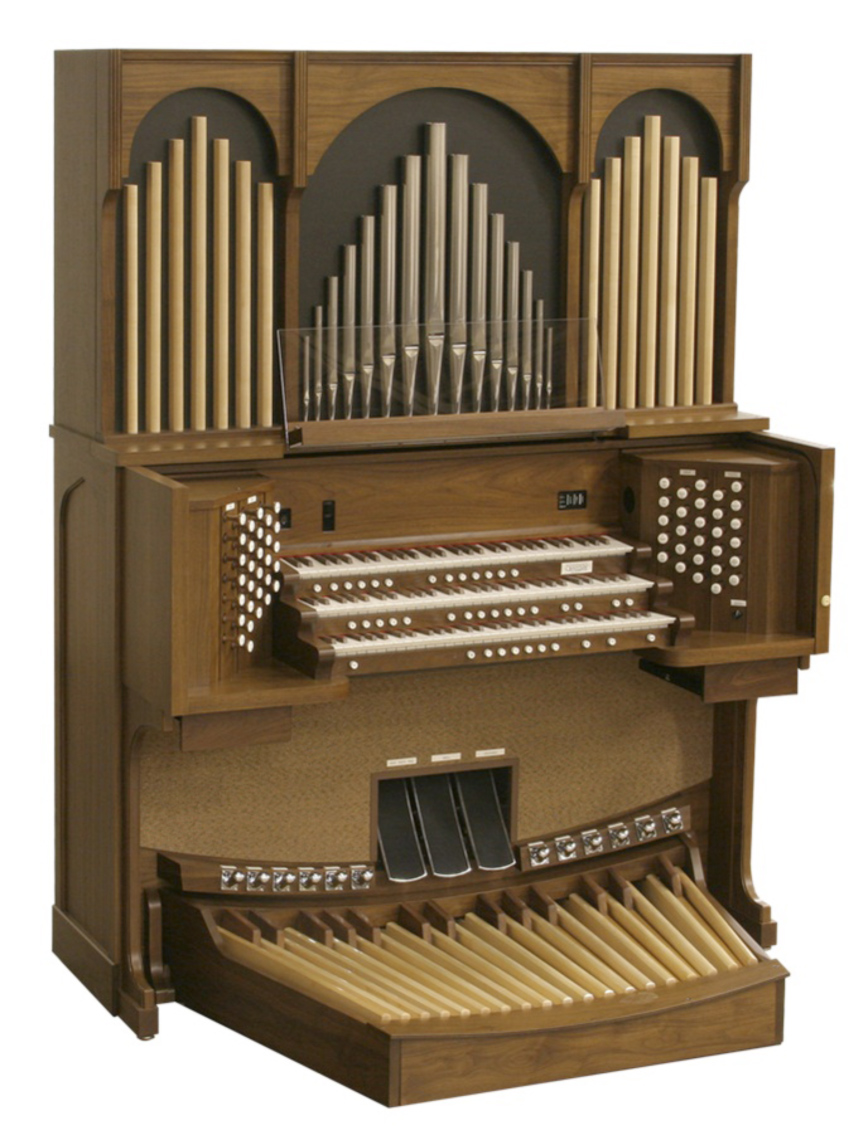 Another interesting and very practical addition to the Allen product line this year is the Portatif system designed for home or small church use. It is a speaker enclosure and façade that augments Allen consoles with 4-channel, self-contained audio system. It is an integral part of the organ console and adds significantly to the tonal quality of internal speaker consoles giving these a pipe-organ quality that did not exist previously without external speakers. The speakers are at the top of the unit and not at ear level. These speakers parallel the kneeboard audio system, creating omni-directional and room-filling sound. This system will add the look and ambiance of real pipes to an Allen organ. Real pipes are in the centre section but may be added across the entire façade.
All Protégé and Quantum organs have individually adjustable weighted and felted wooden keysticks, sealed reed switch keying for the ultimate in reliability and responsiveness, note-by-note, stop-by-stop voicing. These significant features combine to achieve pipe organ characteristics in sound and touch. This means that well over 500 years of organ repertoire and organ building can be credibly represented and performed on Allen instrument today and far into the future. Hardwoods and hardwood veneers are used to enhance the quality and longevity of each Allen console.
Allen organs have earned a world-wide reputation for quality, service and longevity. The quality of construction and of sound redefines the state-of-the-art in organ building. While many builders look to cut costs by sourcing components from third-world sources, or build cabinets from particle board, Allen maintains the highest standard of quality in every aspect of organ building. It is a quality that can be relied upon for the long term. Allen and Glionna Mansell represent profound quality…. seen and unseen. Please see the Glionna Mansell website for a tour of the Allen factory and also recent videos of the building process for Allen's keyboards and drawknobs.
For more information regarding any of the fine Allen organ products, please phone: 416-769-5224, or toll free: 1-877-769-5224.
- 30 -