Glionna Mansell Corporation Presenting the world's finest Classical, Digital and Digital-Pipe Organs
August 13th 2014
Croatian Martyrs selected Bravura™ L122 organ
Croatian Martyrs Catholic Church in Mississauga, Ontario selected a 29-stop, two-manual Allen Bravura organ for their busy parish. This instrument finished in walnut has four cohesive tonal suites and is a beautifully designed, well crafted instrument with many more features that are well suited for supporting robust hymn singing. The nine external speaker cabinets are finished in white to match the interior of the sanctuary and nave of the church. The antiphonal cabinets offer parishioners a sense of the spatial character and true pipe organ sound that is consistent with all Allen organs. This installation is the latest example of a long and impressive series of quality Glionna Mansell - Allen organ installations.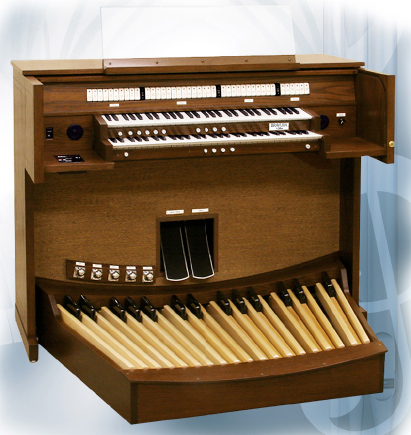 Bravura™ L122
29-Stop, Four Tonal Suites
Glionna Mansell Corporation President and Artistic Director, Gordon Mansell also said [that] "…similar to all new Allen organs of this nature installed over the past few years, this organ will be part of the practice of faith at Croatian Martyrs for many many years. Allen church organs blend historical organ building practices and industry leading quality with useful innovative technology."
For more information regarding this or any other fine Allen organ product, please visit www.allenorgan.com or www.glionnamansell.com. You may also phone our President and Artistic Director, Gordon Mansell at, 416-769-5224, toll free: 1-877-769-5224.
- 30 -